Pyroll Winschoten service center has been nominated as an "improver" and Pyroll Valkeakoski as a "performer" of year 2019 among five Pyroll Converting's service centers in Finland (Siltakyla and Valkeakoski), Poland (Strykow), Germany (Baienfurt) and Netherlands (Winschoten).
In both rewards categories evaluated were leadership (especially team building), safety, quality and productivity. In "performer" category evaluation was based on performance against set targets for 2019 and in "improver" category it was based on improvement compared to previous year. Congratulations to both Cutting Edge -teams for rewards, well deserved!
Improver of the year 2019!
Pyroll Winschoten team: from the left – Bert Bodde (General Manager), Pieter Klungel (Customer Service and Logistics Manager). Ina van Aalst (HR-advisor/Customer Care Coordinator) and Ronald van der Kooi (Production Manager).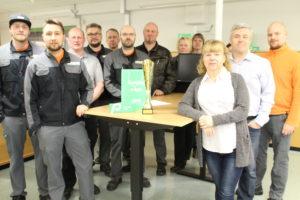 Performer of the year 2019!
Pyroll Valkeakoski team: from the left –Jari Tuomainen, Erik Lindberg, Jouni Uusitalo, Mikko Tofferi, Kai Vauhkonen, Ari Salo, Jani Federley, Riitta Välimäki, Sirpa Honkala, Jaana Kaura, Mika Rosenqvist and Henri Lahti.
20th January 2020