FlowPap® Evo is a new plastic-free, recyclable & heat-sealable paper packaging material. FlowPap® Evo is based on renewable fibres in which the functionality has been achieved without utilizing either fossile-based or bio-based plastics.
FlowPap® Evo has dispersion sealant coating. This material provides similar technical performance as conventional plastics for packaging dry food materials, when packaged product itself does not require specifically low water vapour permeability. It can be utilized on existing packaging machines.
It has natural feel and appearance of paper.  It is customizable with high quality printing and watersoluble printing inks. The packaging material web can be manufactured with windows made of biobased- and biodegradable window films. The solution is based on FSC-certified fibres. It is lightweight, breathable, biodegradable and assists in reducing usage of plastics. Material can be recycled in carton/paper waste collection.
This new material is one of the Sustainability Awards 2019 Finalists. https://thesustainabilityawards.com/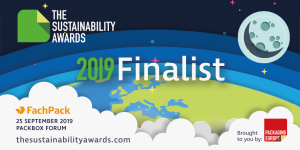 You can read more about FlowPap® Evo and Primula's Development Manager, Laura Flander's thoughts about this new material here: https://pyroll.com/packaging/en/more-taste-no-waste-primulas-bredi-will-be-conquering-the-world-from-germany/